July 2016: Keiko Shimizu (blog at The Concert Co; "Friedrich Edelmann and Rebecca Rust at Toshi Image Studio"):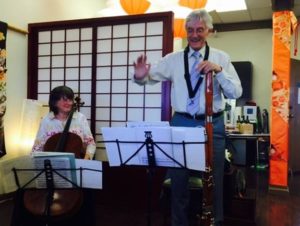 Stepping into Toshi Image Studio, I was greeted by floor to ceiling windows looking out on the harbor, and a unique décor which melded traditional and modern Japanese design to create an atmosphere both elegant and quirky. Toshi, our equally stylish host and the owner of this hair salon, had set up a miniature concert hall for about twenty people to enjoy an intimate performance. 
I have had my hair cut several times by Toshi, and recently he told me about the monthly concerts and other events which he hosts in his studio on the yacht harbor of Point Richmond. This month, he had invited a bassoon and cello duet, and my curiosity was immediately drawn to this unusual combination.
German bassoonist Friedrich Edelmann and American cellist Rebecca Rust have been going strong as an international duo for over forty years. Both coming from prestigious musical backgrounds, (Edelmann was principal bassoonist for the Munich Philharmonic Orchestra for 27 years and Rust has studied with renowned cellists such as Mstislav Rostropovich) this duo has concertized extensively in Germany, Italy, the U.S.A and Japan. Edelmann and Rust have even had the honor of performing for the Emperor and Empress of Japan in the imperial palace in Tokyo.
But this musical success has not eroded their approachability. Edelmann's introduction to each piece was imbued with enthusiasm and curiosity, a testament to their genuine and humble passion for music.
It was charming to watch Edelmann and Rust perform classics-pieces by Mozart, Bach and Haydn-which had been a part of their repertoire for over forty years. I could sense the intimacy and familiarity that they felt towards these pieces that had traveled with them across the globe and had touched many different audiences. Despite having played this repertoire countless times, they emphasized that each performance was a unique adventure. Their approach to these pieces has not been dulled by repetition. Rather, I felt that they had a profound respect and camaraderie with these compositions and their creators.
As well as having these ripened relationships with certain pieces, Edelmann and Rust demonstrated an openness and curiosity towards music of different cultures and modern composers. Their performance of a series of short Japanese songs reflected the melding of Japanese and western cultures, embodying the venue as well as the diversity of the audience. In addition, Edelmann gave a world début of — newest composition by George Tingley (Edelmann told us that — had been making changes on the composition by email shortly before the concert). Each movement was extremely short, so short that "if you don't pay attention, it will already be over." The piece was like a taste-test of a range of emotions, it's theatrical melodrama making the audience-and Edelmann- laugh.
May 2014: Stephen Smoliar (Examiner.com):
One of the more interesting performing groups in San Francisco is an ensemble that calls itself the San Francisco Munich Trio. The name signifies the union of San Francisco cellist Rebecca Rust with her husband Friedrich Edelmann, formerly Principal Bassoon for the Munich Philharmonic Orchestra, both performing with Bay Area pianist Vera Breheda. As might be guessed, this unconventional combination of instruments provides for an approach to repertoire that is definitely exploratory and frequently adventurous. Read more…
March 2014: Robert McClintock (Classical Music Review "Chamber Trio") on the concert in Woodland, CA
The Art of chamber music is to be found with its intimacy. In a parallel vein, great performances bring with it a goodly sense of the personable. With this is mind, the recent performance of the San Francisco-Munich Trio excelled. The art aspect was soundly delivered via exquisite executions of the selected works on the program that represented four centuries of cultures, styles, and people, from Vivaldi and lesser known composers of the Baroque, to Schumann, to Ravel, and Frackenpohl, and others in-between, and all played by an eclectic combination of cello, bassoon, and piano.
Partly contributing to the success of this particular concert was the personable host of the trio, bassoonist Friedrich Edelmann. Herr Edelmann introduced each selection on the program with an engaging and informative narrative. When he finished each introduction one was left with the feeling it would be an enjoyable experience, regardless of what was to follow.
This, however, in no way diminished the high caliber of performances by each member of the ensemble of three.
The musicians were American born cellist Rebecca Rust, the aforementioned Friedrich Edelmann, and pianist/accompanist Chris Salocks…
The evening was memorable on all counts. The program was varied and unpredictable. Some of the works were simply for bassoon and cello duet, some for bassoon and piano, and cello and piano and, of course the full ensemble of three. The selections moved from the passionate to the intense, to the humorous. Each piece truly seemed to have been the expression of the composers' intentions—or at least the trio convincingly played them as such…
…it was a thrill as much as a treat to hear the principle bassoonist of the Munich Philharmonic Symphony. He was a direct link to legendary maestros as Sergiu Celibidache, James Levine, Karl Böhm, Kurt Masur, Carlo Maria Giulini, Karl Richter, Carlos Kleiber, Georg Solti, Erich Leinsdorf, Lorin Maazel, and Zubin Mehta and many others. His background and experience was evident with the fluency of his performances which surveyed the entire spectrum of the bassoon.
Cellist Rebecca Rust, the distaff side to Herr Edelmann, also has coveted credentials in her performances and with having studied with some of the great teachers; she lived up to her reputation. She, too, displayed her superb skill, technique, and musicality through an intimate exploration of her instrument…
With all of the pieces in place—the three superlative musicians, the thoughtful program of selected works, the personable introductions by Edelmann, and the comfortable chamber theatre at Woodland's Pioneer high school—there needs be another element to make the evening more than the sum of its parts. It was there, but it eludes definition. It was memorable, but escapes clear definition. But it was there, and those who witnessed it will likely remember the feeling more than the notes upon reflection…
 February 2014: Linda Saholt (www.news-ridgecrest.com)
Our deepest feelings are expressed only as music. Have you ever found tears running down your face because you heard music so beautiful you had no words? Driving home after the Indian Wells Valley Concert Association's Feb. 20 concert by the San Francisco Munich Trio, I found myself in exactly that situation. The concert had been a profoundly moving experience. … The three artists took their places, and simply played the music, exactly as the baroque artists wrote it, and we, the audience, were hearing it exactly as it was meant to be heard in the eighteenth century. It was simple, complex, and sublime all at the same time. Pianist Dimitry Cogan and bassoonist Friedrich Edelmann were outstanding. …After a quick announcement from Edelmann, the trio launched into their first piece, Mikhail Glinka's "Trio Pathetique" for cello, bassoon and piano. …..The music caught hold – the liquid notes slipped by like a caress to the ears. I studied Cogan and Edelmann, listening to hear their individual themes weaving in and out of the collective whole…
But that cello…. During Robert Schumann's Adagio and Allegro op. 70, the audience was absolutely silent, to catch every delicate note, hanging pure and perfect in the air above them. The encore piece was Camille Saint-Saens' "The Swan," from "Karneval der Tiere". This was the most exquisite and lyrical version I have ever heard of this familiar melody.
A standing ovation burst forth at the conclusion of the concert.
 October 2010: Classical Sonoma Chamber Review "Rich Bassoon Sounds Charm at Gualala Concert":
The audience at Sunday's Gualala Arts chamber concert might have given an extra round of applause to the Music Committee for their sense of adventure. Their courage in presenting a trio of bassoon, cello and piano was well rewarded by the music making of Friedrich Edelmann, Rebecca Rust and Dmitriy Cogan. 


You could say the genesis of this concert occurred more than 34 years ago when Bay Area native Rebecca Rust won a scholarship to play in a youth orchestra in Belgium. She met and married Friedrich Edelmann, (who was principal bassoonist at the Munich Philharmonic Orchestra from 1977 to 2004) and they have enjoyed exploring the bassoon-cello repertoire ever since.   


For me, and I suspect for most of the audience, being this close to a bassoon was a new experience. While there are bassoon solos in the orchestral repertoire, there are not many opportunities for an up close experience of the range of sound or the flexibility of this instrument. 


When asked how the bassoon had survived when so many of the instruments of the 17th century have disappeared, Edelmann gave credit to the masters, Beethoven and Mozart in particular, for liking the bassoon's sound so much that they included it in many of their best orchestral works. 
Read more…
November 2008: Chamber Music Concert Held in Commemoration of 70th Anniversary of Kristallnacht:
On Sunday, November 9, a special Chamber Music concert in commemoration of the 70th anniversary of Kristallnacht was held at the Villa Aurora.
The artists residence and historic landmark, former home of exiled German-Jewish writer Lion Feuchtwanger and his wife Marta, was the perfect setting for Friedrich Edelmann, bassoonist, Rebecca Rust, cellist, and Sergey Silvanskiy, piano, to present the work of composers who had been persecuted or banned by the Nazis, thereby giving voices back to composers whose work had been nearly forgotten. Compositions by two romantic German-Jewish composers, Robert Kahn (1865 – 1951) and Hans Gál (1890 -1987), who both had to flee the Nazi tyranny, as well as by Max Stern and Felix Mendelssohn-Bartholdy, were performed by the musicians…
October 2008: Jerry Kuderna (San Francisco Classical Voice)
…As a duo, Rust and Edelmann produced sound that was strikingly full and balanced. From the first notes of the sprightly Boccherini Sonata in C, you could feel their sense of power and command. They filled the Giorgi Gallery with a sound that was arresting in its sensuality and frankly romantic in its expression — the subdued, reticent sound of two instruments graciously taking turns at melody and accompaniment. At the time it was composed, the sonata was in its infancy, and it would come to be the dominant instrumental form of the Classical period, in the works of Haydn and Mozart…
About Brahms e-minor Cello-Piano Sonata in concert (RHEINPFALZ LUDWIGSHAFEN):
…expressive individuality, beautiful sonority, high musicality. Strong colors and expressivity of the lines and structures are dominating her cello playing as well as flowing passages and virtuos staccati in the finale.